As a professional photographer – focusing primarily on child and family photography – you might think at some point I'd become immune to cute kid photos – but it hasn't happened yet! As I go through and edit every session, I'm always looking for that one photo that just wraps up my heart and takes my breath away. It's tough to describe what qualities make up this particular photo, but I know it when I see it – and I know the parent will see it right away too.
So what makes a photo take your breath away? Sometimes it's the composition of the photo (more on that later), or perhaps it's the way the photo captures the very essence of a child's personality. Or maybe it's an image that reveals a side of the child you don't usually see. Take this sweet photo of my son, Harrison. He loves the camera (good thing, huh?) and is usually quite the little ham, but this pic reminds me that he does have moments of quiet and stillness. That despite his big expressions and constant motion, he is still just a little boy with a lovey – lying quietly on a wall at sunset. It takes my breath away (the fact that the light is completely amazing here also contributes!)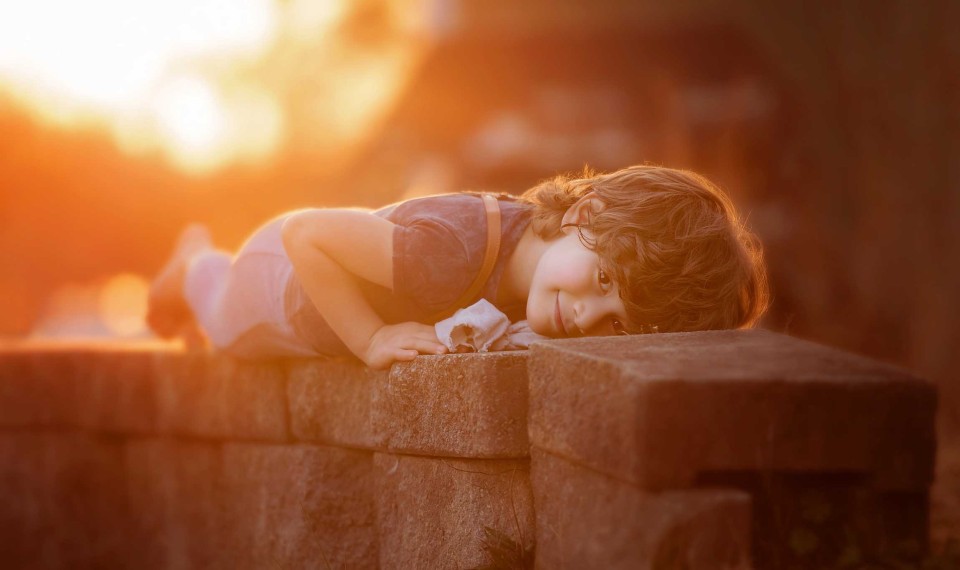 Something about that sweet smile here…
And then there's this one – which cracks me up. The newspaper, coupled with the suspenders, reminds me of a little old man – and yet, he is so fresh and shiny and new. He wanted to do something that would remind him of daddy and since daddy enjoys the paper this is where he landed. I think it's that contrast that I love most about this one. (And that light again too!)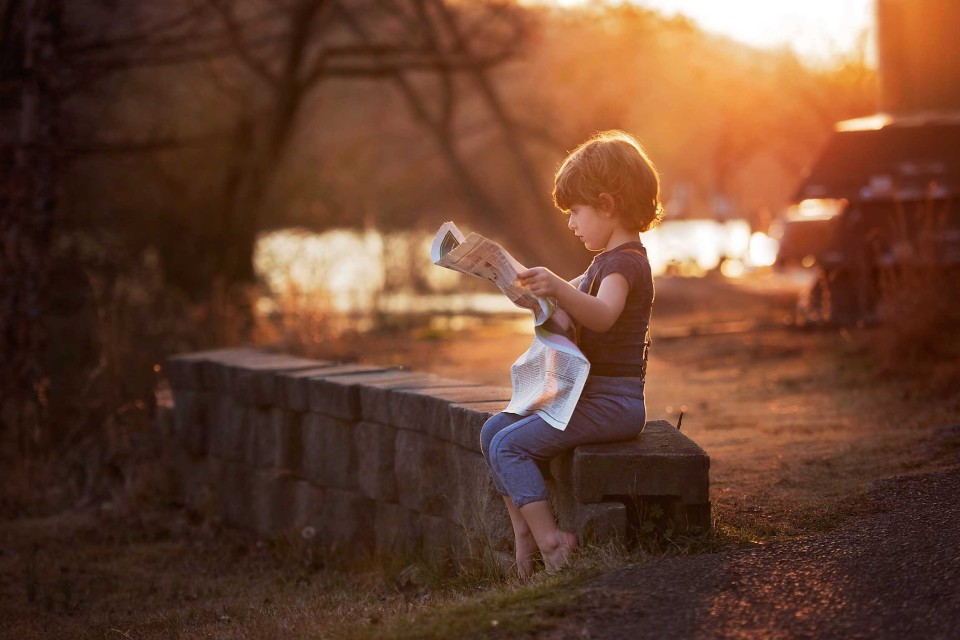 When little ones take it upon themselves to explore nature, something magical is always about to happen! If your child loves animals, an interaction with them can create something truly beautiful.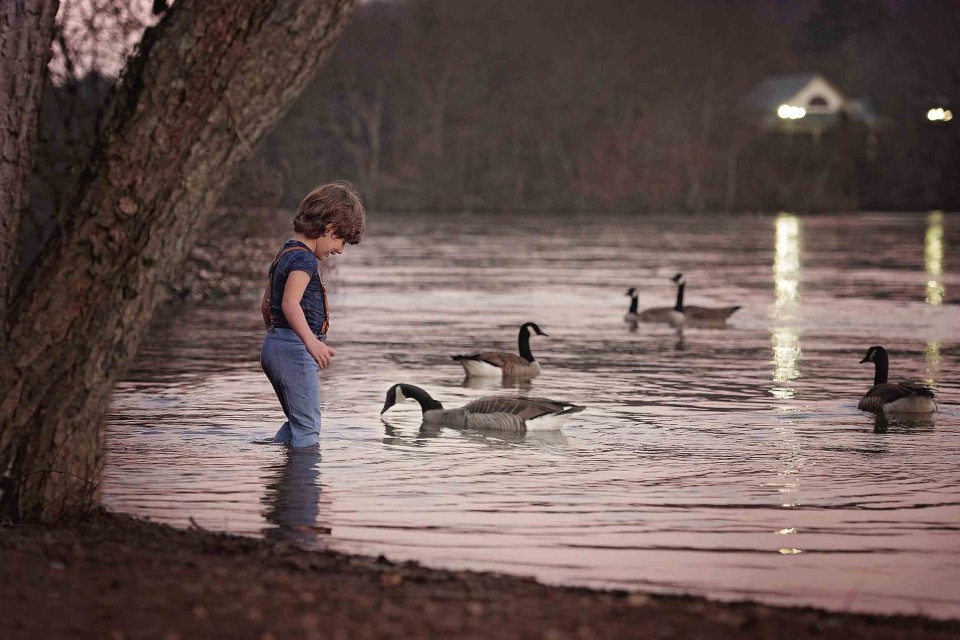 And sometimes standing back, watching and waiting for the moment to present itself is the way to go. Not the exact moment I was striving to capture, but I'll take that smile any day!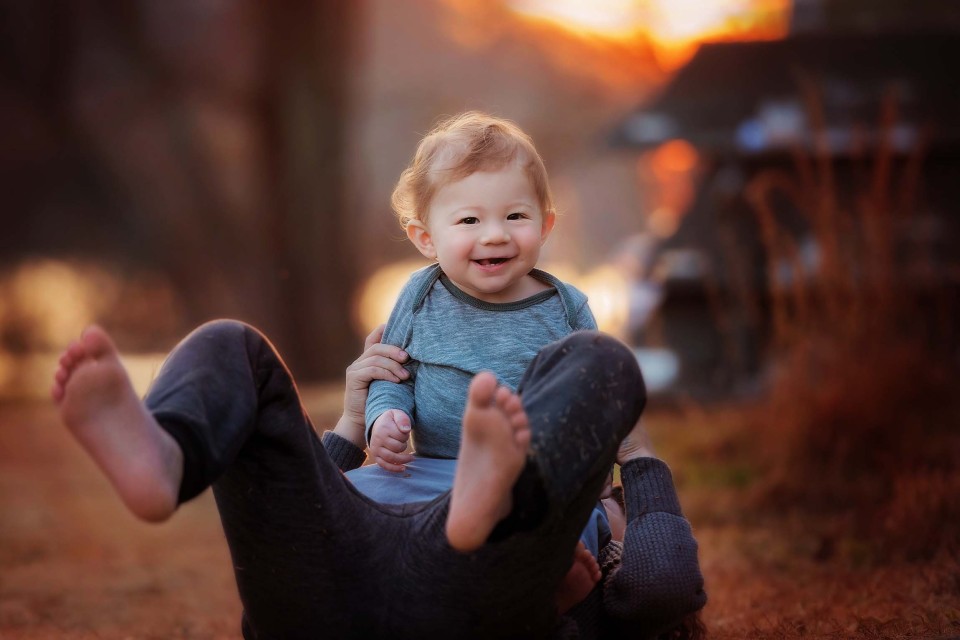 And always bring your camera and use whatever camera you have, even if it is your phone. This particular moment just presented itself. The river was high, the dock was submerged and this little stump was literally just floating there. As soon I mentioned the magical, floating stump he immediately ran over and sat down.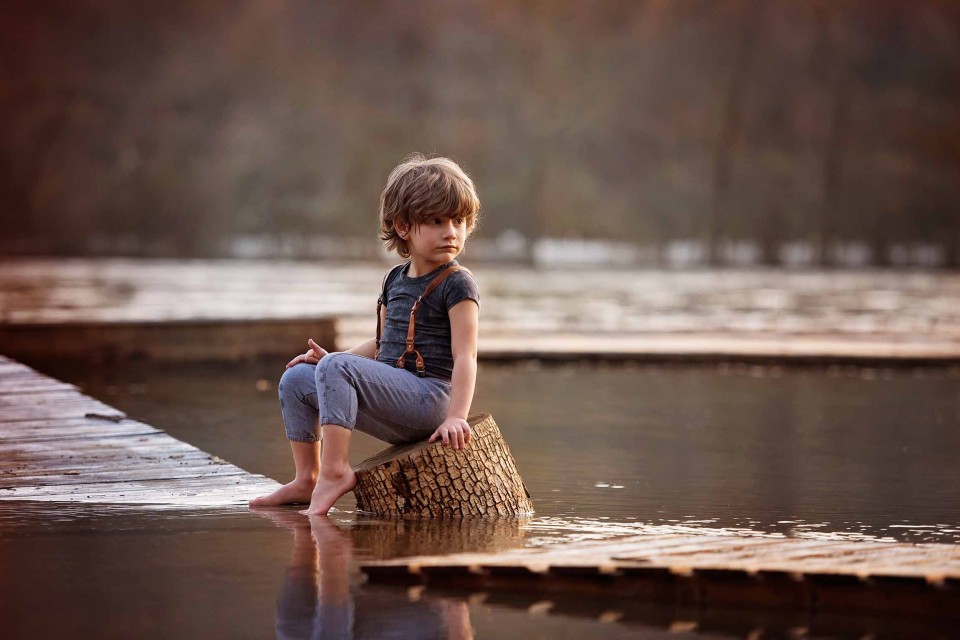 Kids will be kids and sometimes the perfect moment presents itself in an imperfect way. It becomes an incredible memory and loved for its imperfections. Imagery is most impactful when it sparks some kind of emotion for the viewer. That is what I always strive to capture.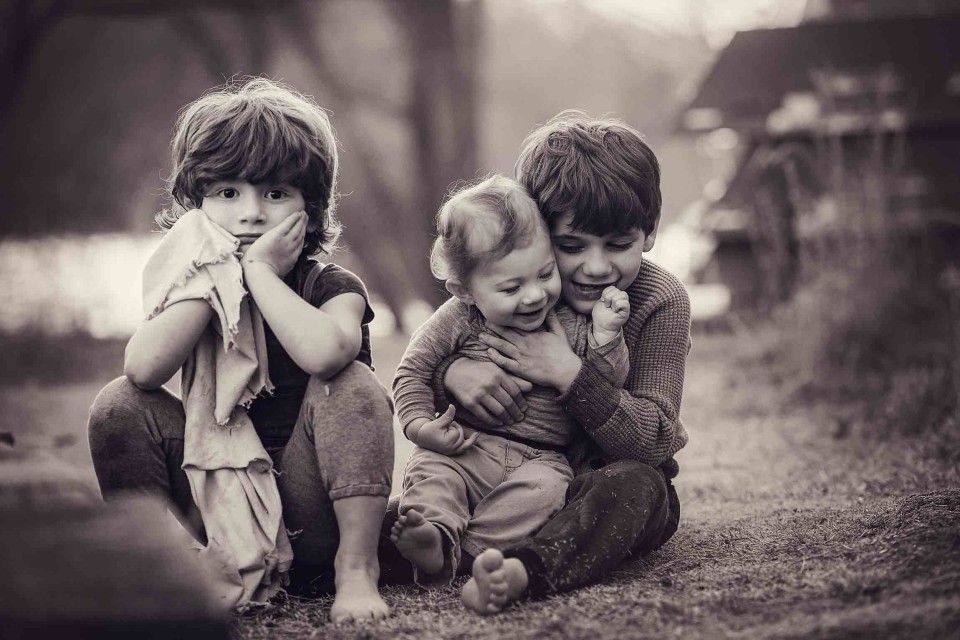 Images are sometimes loved for more than just the primary subject; the lighting and setting also set a tone that will make you stop and take a second look.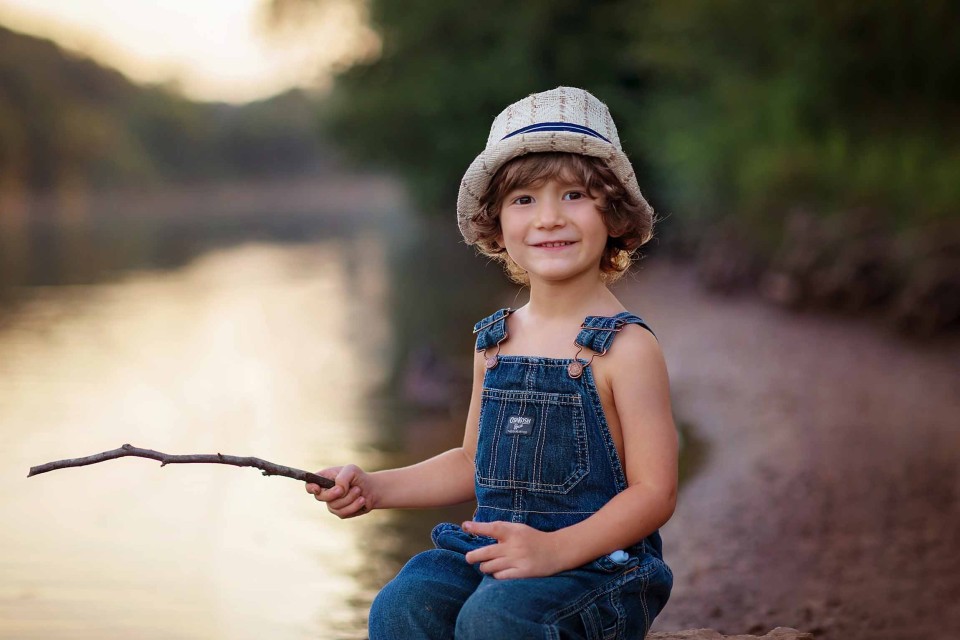 The composition of an image can make or break the viewing experience. Composition – the placement or arrangement of visual elements or ingredients in a work of art, as distinct from the subject of a work. For this image, I wanted to capture that golden light on the river along with the disappearing tree line to create a fair amount of depth to the image. And luckily our duck friends decided to create even more interest as they swam right into the shot and created the perfect expression as my son was watching them.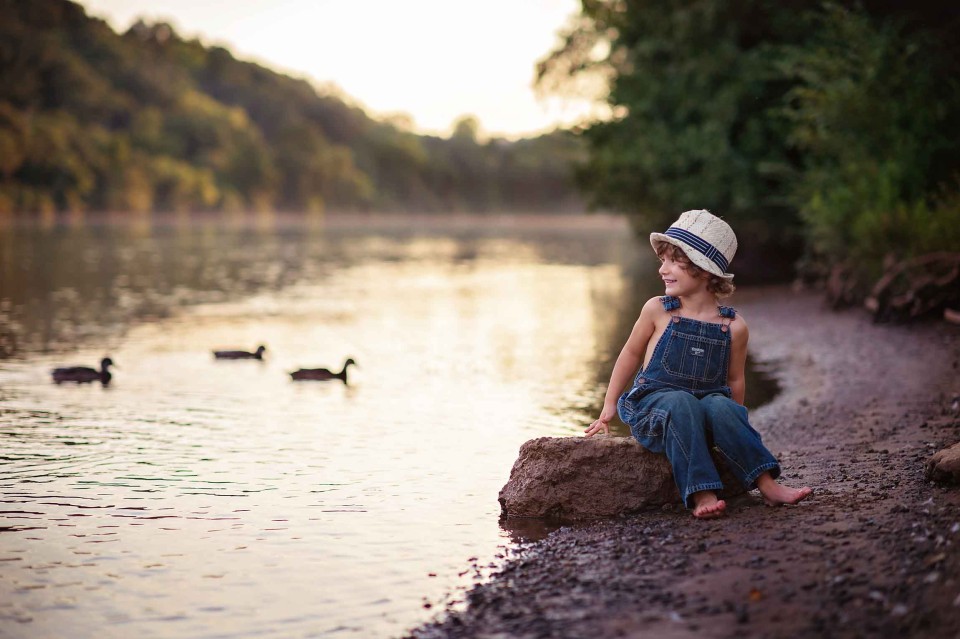 A close-up of a silly expression is always sure to be a winner.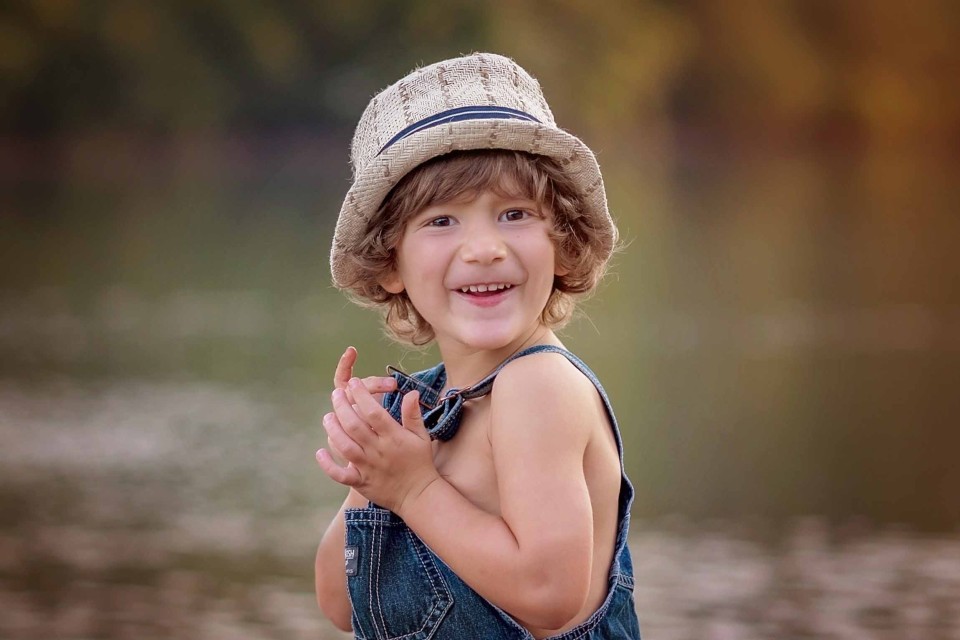 Little brothers love their big brothers. Capturing truly loving sibling interaction is always something I strive to do. I cherish nothing more than being able to look back and see them playing together and freezing those specific connections. After all, these memories remind me of what family is all about.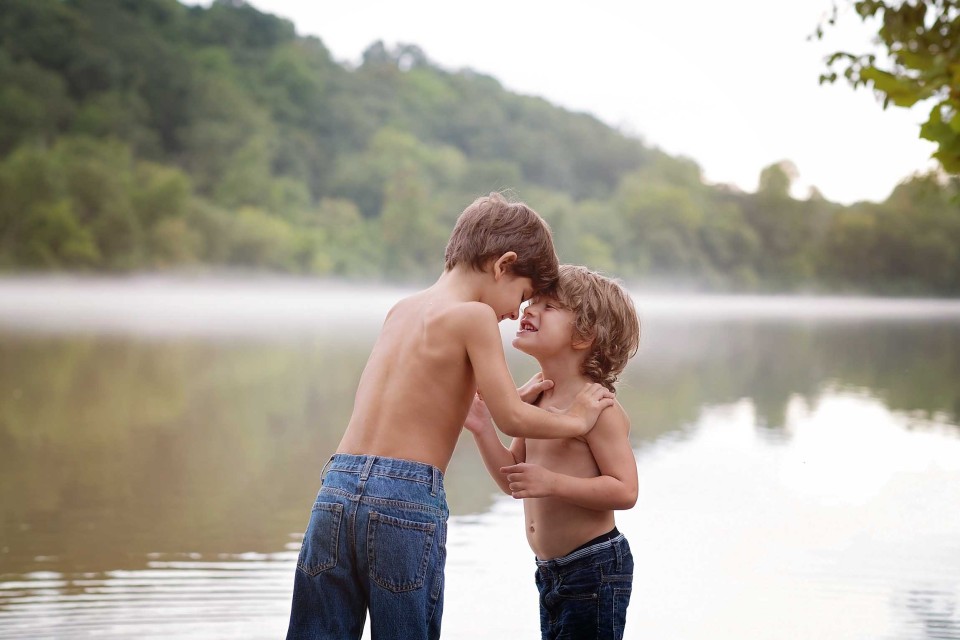 Warning, mommy goggles may be in full effect here … But I must share, it was their idea to stand together like this and they both just happened to connect and look over at the same moment. Still, calm, and connected! Definitely a moment I want to freeze!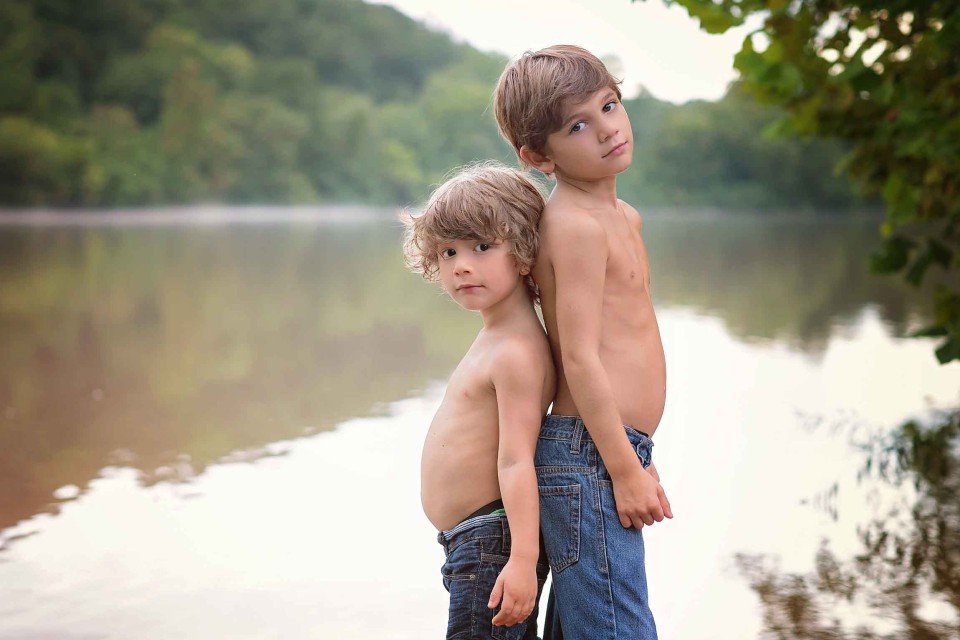 These silly faces are often worn by my boys. These expressions presented themselves after watching mommy shake her tushy and in turn making the floating dock rock a bit.  Laughing is definitely a survival tactic in our family. We pretty much try to laugh at most situations rather than drown in any negativity. Yep, those expressions accompanied with this setting … definitely a keeper.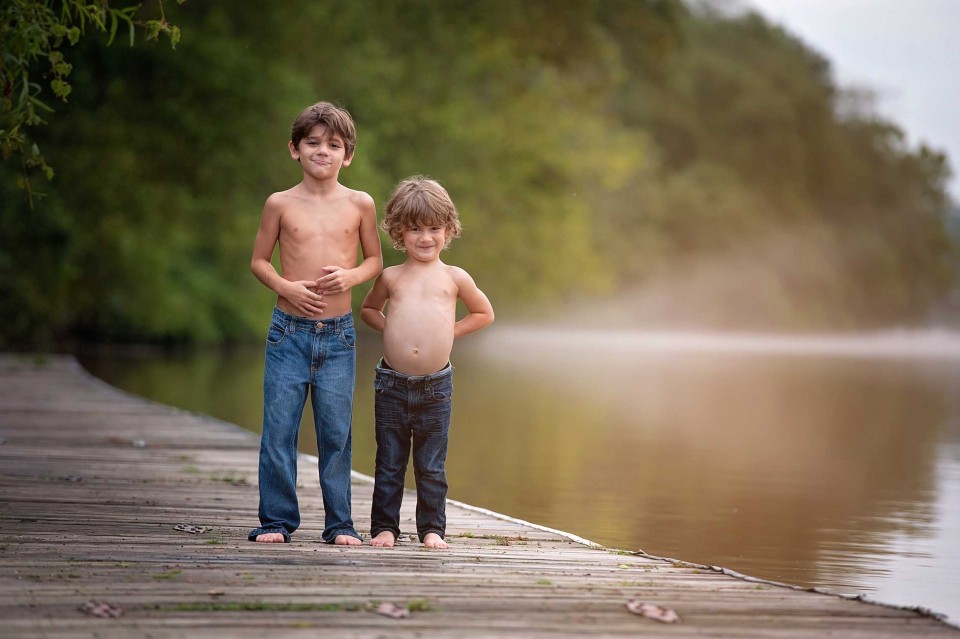 And he may look sweet here, but don't be deceived! Yes, he has a sweet side for sure, but is also a spirited, strong willed little guy. For this one, I feel like the composition and expression are key. He was just looking up admiring the beautiful sky and a moment of sweetness and peace crossed his face. Luckily the camera was there and ready to freeze time!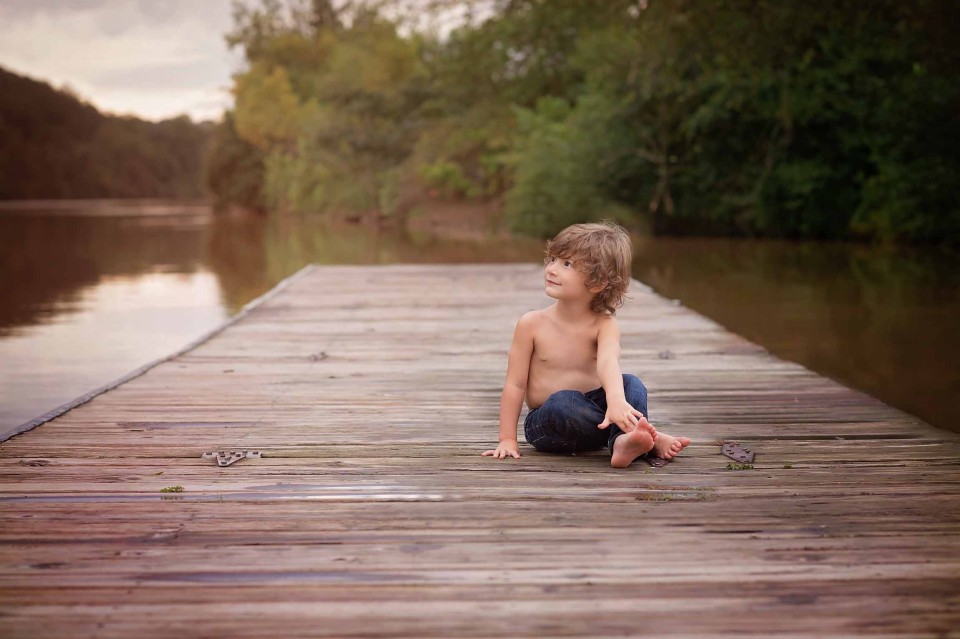 So there you have it! That's what I love – and how I captured – these images. If you're setting out to capture your own take-your-breath-away images, here are a few tips:
Try to capture something genuine. It can be a smile, but it doesn't have to be. Our children are not always smiling and sometimes those sweet moments in-between can truly be the most magical moments.
The lighting in an image sets the mood and tone of what the story will be. Soft, natural light is most flattering on the skin and is definitely a favorite of mine. Typically, this is found in early morning or prior to sunset, but shade pockets and light leaks throughout the day can be beautiful as well.
Don't forget about the composition of the image. Try to focus on what's important and include those things in the frame of your image.
Including elements that are important to your subject creates a more genuine memory. A favorite lovey or animal friend for example.
Don't force it, sometimes you just have to sit back, focus and wait. This may give you time to see more clearly the entire picture and what you are hoping to capture.
I'm eager to see the photos that take your breath away! Post your images on Facebook or Instagram with the hashtag #takeyourbreathaway and be sure to tag Freckled Flower Photography too.
Contact me here to request more information about an Atlanta photography session, or you can follow me on Facebook and Instagram, where I announce special offers on professional photography and share my favorite images from recent photo sessions. I'd love to send you my newsletter as well.
Jennifer McCarren of Freckled Flower Photography specializes in newborn, child and family photography in North Atlanta, Georgia locations such as Alpharetta, Milton, Roswell, Dunwoody, Sandy Springs, Marietta and Canton.