I hear their feet pounding towards the closed door before the inevitable "Mooooom!" followed by a loud wail.
"I may just need to call you back in a few minutes, if that's okay," I quickly say into the phone. The client graciously accommodates and by the time the door swings open I have already ended the call. (This isn't my first rodeo, after all!) Sebastian, whose hair is soaking wet, appears first, with Harrison on his heels. I'm sure a better mom would start with "Is everyone okay?" but my first words are inevitably, "Shhh!!! Please don't wake your brother!" then quickly (because I'm not a monster!), "Is everyone okay?"
They were, in fact, okay. And fortunately, the fact that my client-base is very sympathetic, means that my Roswell family photographer business also remains okay – despite frequent episodes like this one.
But this scene is the perfect example of both a pro and a con for running a business from home. So for those of you following a long, and maybe wondering what it's like to run a professional photography business from home, this is where the list begins!
Pro: More time with kiddos
I'm there to comfort Sebastian when his little brother has dumped water all over his head. His ego has been hurt more than anything else, but still, it's nice to be available to make him feel better with a quick snuggle. I'm also there to put Harrison in his place and direct him to his room for a timeout. Sure, it's probably nothing that a babysitter couldn't have handled, but sometimes, it's these mundane little events that validate, for me, my decision to stay home.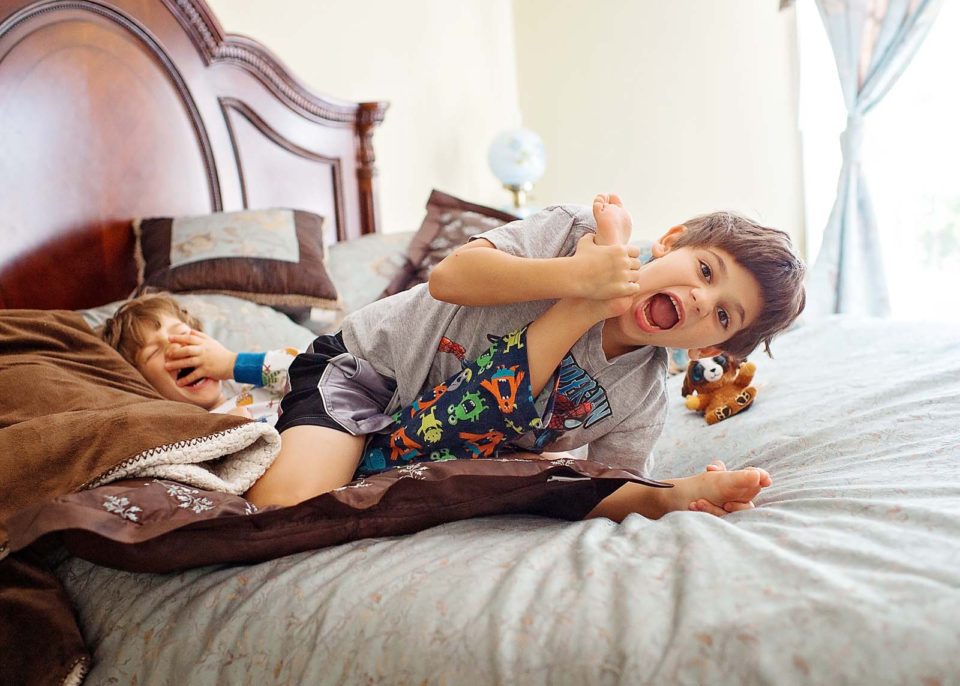 Con: Constant Interruptions
These near-constant interruptions make it impossible to get anything accomplished! Obviously, that's not entirely true because, of course, I do manage to complete projects, but it requires an almost superhuman ability to shift focus at a moment's notice from business to home to business again, without losing momentum and sacrificing productivity.
Some might call what I've described here as multitasking, but for me, "multitasking" implies that attention is simultaneously split between tasks. And while that may be what I'm doing at times, I think the real work is done in those snippets of time when I can 100% focus on my business. These snippets aren't always consistent – especially during the summer months – but I've learned to leverage whatever time I have – no matter how short – to squeeze out every single ounce of productivity. So, I suppose that's another pro.
Pro: Realizing I'm capable of superhuman bursts of productivity
The process of running a business at home has forced me to become insanely productive. Even when it feels like I've been interrupted 8,000 times in a given day, I'm usually pretty amazed at what I manage to cross off my list.
I think back to my corporate job and remember what it was like to stroll into the office, get myself a cup of coffee while I eased into the day – scrolling through my email, clicking on interesting industry news items, while I planned my to-dos for the day or week. I'm sure not everyone's corporate experience was this way, but in the time the "corporate me" used to take preparing for my day, the "mompreneur" me would have already crossed 3 items off my list!
Of course it could be hard to get stuff done in the corporate world too. The corporate job was certainly not without interruptions. A coworker discussing her wardrobe options for an upcoming blind date, a boss with a surprise project, and the constant pinging of the instant messaging software installed by IT (That "ping" made me far more weary than hearing, "Moooooom!" – even for the gazillionth time – ever could.)
So I'd call little boy interruptions a "pro" over corporate instant messaging interruptions any day. Example interruption and a pretty adorable one at that … not so innocent little Jameson! Fully equipped and ready to dump body wash all over the floor and himself.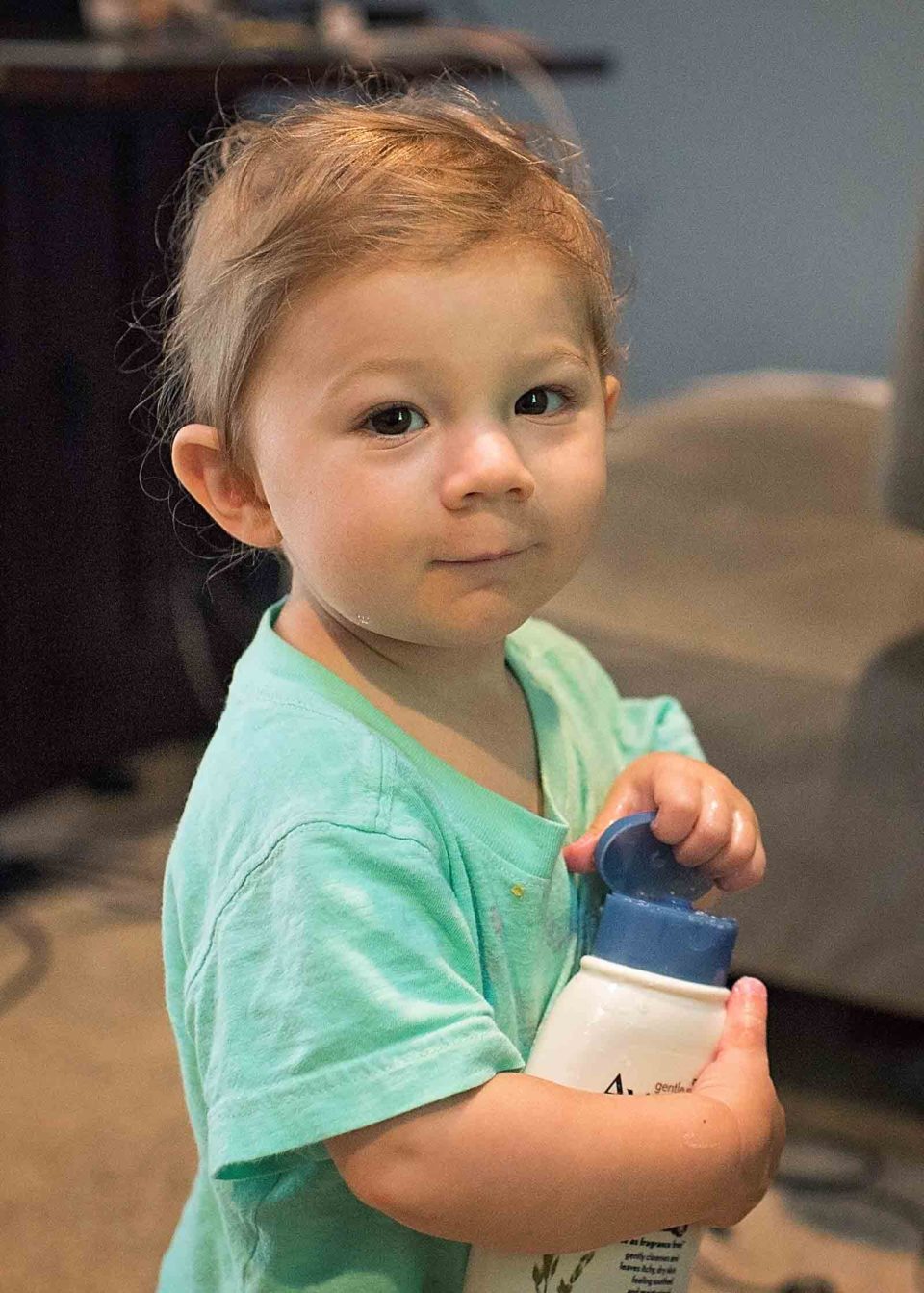 But there's another kind of interruption that all working moms have to deal with – whether they work at home or in an office. The interruption of sick kiddos. For me, working at home as a Roswell family photographer, a sick kiddo is easily dealt with – he is picked up within minutes of me getting the call without having the debate with my husband over who has more meetings and more important things to do at work that day and whose boss will be more irritated by the absence. Instead, I feel absolutely no guilt when I stop what I'm doing to take care of my sick child. So I'd add that to the pro list too –
Pro: Easier to deal with sick kids
It's easy to pick up sick kids or attend school functions without asking a boss or feeling guilt that I am shirking my responsibilities on someone else. Whatever I have to do will get done eventually.
If it seems like the pros are outweighing the cons, you might be right. But there are definitely a few more cons as well. For one…
Con: My house is messier than yours and we eat takeout multiple times a week!
What's that? Your house is a mess too and you also eat more takeout than you should? Well, more power to you – to both of us! Sometimes you just have to let things go. The truth is, even if I wasn't working so hard at being a Roswell family photographer in my "spare time," I doubt I'd be using those hours to organize my mess or cook gourmet meals. Like you, I'd probably find other ways to be productive and serve my family or community – through volunteering at school or just dealing with the other crises that inevitably come up. There's never a shortage of things to do, and as women especially, we tend to not stop until it's done (which is, of course, never).
One way I'm dealing with this particular con, however, is to outsource more. I find babysitters who will also grocery shop and occasionally even cook. And my sweet husband even makes time to do a little grocery shopping and cooking when we need him. I have someone else clean my house periodically – though the constant chore of tidying up is still on me and the boys.
I've recently begun to outsource in other areas too. Which leads me to another con of running a small business from home.
Con: You're totally on your own!
When you run a business from home, you alone are responsible for everything related to the business. From setting up your business bank account, to writing and executing the marketing plan, to accounting, to IT services – nothing is provided to you without you arranging it. There are also the costs of running a business that you may or may not think about before starting down this path. Business registration dues, the cost of website hosting, web design, insurance, equipment rentals, and more. These aren't expenses I necessarily planned for when I decided to start a business from home, but if you can benefit from what I had to learn the hard way – well, my screw ups will have been worth it.
Overall, I feel insanely lucky to work doing something that I'm passionate about from home, where I can spend unlimited time with my boys, even the big boy in our family aka husband Chris, my other (and first) passion. It's not all quality time, of course, but I do try to cherish each moment – even the ones where I'm begging for five more minutes of quiet. It's usually in those moments that I overhear the sweet advice from one brother to another to "avoid wearing lipstick because it will make the girls kiss you" or "sprinkle glitter over the messy playroom to make it pretty for mommy." It's these moments, that make me certain that being a mom is the very best job in the world. And whether we choose to do that job round the clock or outside the hours of 8 am and 6 pm or if, like me, we create our own cobbled together schedule of being a mom while running a business at home – whatever we choose, as long as it is the right one for you, that's all that matters.
About the Roswell Professional Photographer
Jennifer McCarren of Freckled Flower Photography specializes in newborn, child photography and family photography in North Atlanta, Georgia locations such as Alpharetta, Milton, Roswell, Dunwoody, Sandy Springs, Marietta and Canton.
Freckled Flower Photography is a proud member of  Professional Photographers of America.
Freckled Flower Photography has been featured more than once on Beyond the Wanderlust, Mozi Magazine, Inspire- Digital or Not Fine Art Photography Magazine, Photo Artistry, Pretty Forum and many others. I've also been published in CHIC Critique Magazine: The Vintage Issue, Young Kids Fashion Magazine and Petite Magnifique Magazine.
Contact me here to request more information about an Atlanta photography session, or you can follow me on Facebook, Instagram, and Pinterest, where I announce special offers and share my favorite images from recent photo sessions. I'd love to send you my newsletter as well – scroll up to enter your email address on the left.