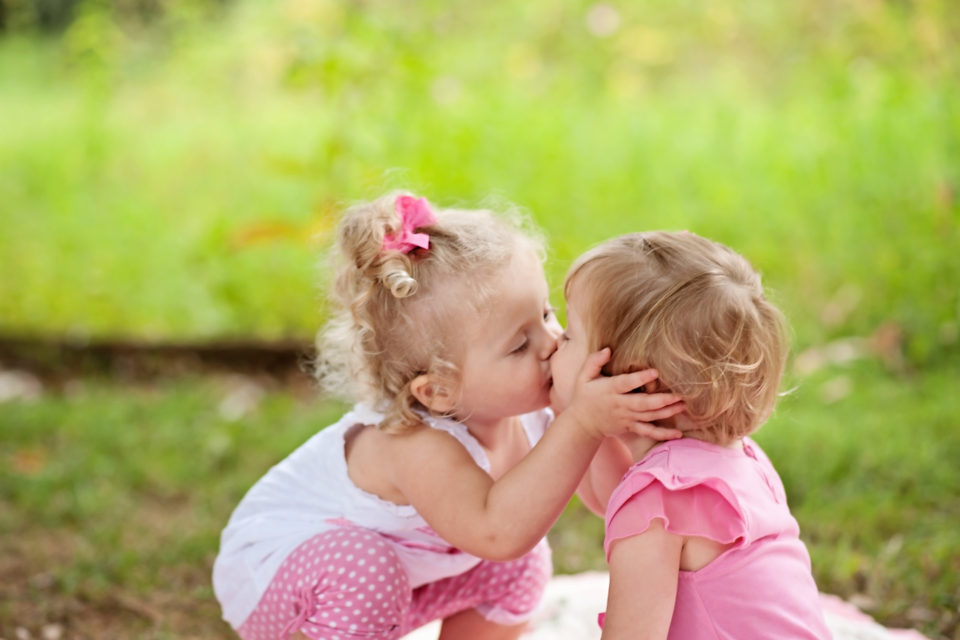 I love my job as a professional family and child photographer. I take a lot of pride in the images I produce for my clients, and I love thinking about the joy their images will bring them for years to come. A powerful image can freeze a moment in time, and whenever you see that framed photo or canvas on the wall, you're instantly transported back. And for just a moment, the emotions you felt in that season of life, will come flooding back. It's almost like time travel!
The Power of Professional Photography
A longtime client of mine recently shared with me that she has been really struggling to deal with her twin daughters' constant fighting. She knows they love each other, of course, but the bickering is weighing her down day to day. I told her I could empathize (you don't live in a house with 3 boys without some squabbling!), and she went on to say that when she really starts worrying about it, she looks at the gallery of images I took of her girls, then 2, hanging in in her hallway. I remember the session – they were giggling and kissing each other and just being generally adorable – and the resulting images were precious. The mom was thrilled with them then, and now, five years later, those images serve as a tangible reminder of the love that will always be at the core of her girls' relationship – even when they're fighting. Pretty cool, huh?
Look I don't mean to inflate the importance of what I do – I'm not curing cancer or catching bad guys – but I do think professional photography is important. It's a way of honoring your family by preserving precious moments. And I suppose I'm biased, but who wouldn't want to do that? I guess this is why I'm often puzzled by potential clients who tell me it's just too expensive. I mean, I know it's not something most people can do without adjusting the budget – maybe they have to skip the daily Starbucks and eat out less that month – but most people in my target market can make it happen…if they believe it's a priority.
Why Do Professional Photographers Charge So Much?
Even people who do value professional photography enough to make the investment sometimes wonder why it has to cost what it does. And I get that. From the client's perspective it probably seems like I show up for a few hours and then my work is done, but the session itself is just a fraction of the time I spend. There's the time I spent planning the session – the location, props, and styling (if requested). Then afterward I'll spend hours transferring images from my camera to the computer, culling the images, and of course, editing – which thanks to my perfectionist tendencies – can be the biggest time drain of all.
Professional photography is my business, and in business, time is money. But even beyond the time I'll spend, there is also the actual money that I continually put into my business. There is the ongoing investment in equipment – the multiple cameras, lenses, the powerful computer, editing software, external hard drives, not to mention the props and designer clothing for styled sessions. There's also training expenses. I keep my skills sharp by attending courses and workshops that aren't cheap! And don't forget about the operating expenses of running any business – insurance, accounting, marketing support, IT services, and of course, taxes.
I chose to be a professional photographer because I love it, but at the end of the day, it is also a business, and that business has to make a profit or it doesn't make sense for me to do it. And in order to make a profit, I have to cover my expenses and then some. So I simply can't offer my services for free – or even at a discount. But hopefully, after reading this post, you have a better understanding of why professional photography costs so much and will recognize why it is still worth doing. These moments are fleeting, and until someone invents a time machine, professional photography is the only way I know of to go back in time.
Do you agree? I'd love to hear more stories like the one shared by my friend with the twin girls. Please visit my Facebook page to tell me what your professional photos mean to you!
About the Roswell Photographer
Jennifer McCarren of Freckled Flower Photography specializes in newborn, child photography and family photography in North Atlanta, Georgia locations such as Alpharetta, Milton, Roswell, Dunwoody, Sandy Springs, Marietta and Canton.
Freckled Flower Photography is a proud member of Professional Photographers of America.
Freckled Flower Photography has been featured more than once on Beyond the Wanderlust, Mozi Magazine, Inspire- Digital or Not Fine Art Photography Magazine, Photo Artistry, Pretty Forum and many others. I've also been published in CHIC Critique Magazine: The Vintage Issue, Young Kids Fashion Magazine, Child Model Magazine http://www.imtherealthing.com and Petite Magnifique Magazine.
Contact me here to request more information about a North Atlanta Newborn Photography session, or you can follow me on Facebook, Instagram, and Pinterest, where I announce special offers and share my favorite images from recent photo sessions. I'd love to send you my newsletter as well – scroll up to enter your email address on the left.